WORLD
PROPERTIES

---
2820 Columbiana Road Birmingham, Alabama (205) 879-9287

Overton Road Office Site
34,800 sf +/-
Lots 1, 2, 36 & 37
---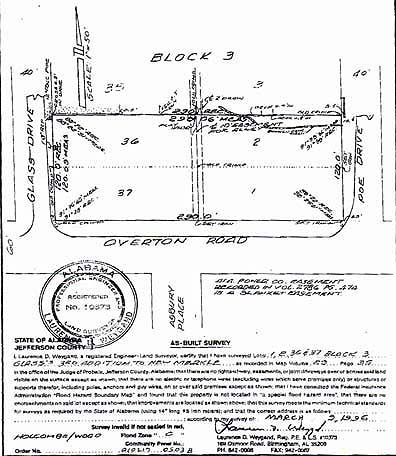 ---
Approximate Dimensions: 290' x 120'
Zoning: C-P (Commercial Preferred/Office) - Owner will work with purchaser to rezone for retail use - ask about details!
Location: Corner of Overton Road, Glass Drive and Poe Drive (near Crosshaven Drive and Overton Road intersection)
Section: Mountain Brook/Cahaba Heights
Legal Description: Lots 1, 2, 36 & 37 - Glass 3rd Addition to New Merkle
Additional Info: Owner has building plans for an approximately 12,000 sf building (or two 6000 sf buildings w/ 3000 sf per floor) for this site. Owner will sell either or both plans at reasonable price.
1999 Traffic Count:: 8500 cars per day (Taken from Census Records)
Please contact us by email for more site location demographic information.
---
Return to WP Home Page, Homes for Sale , Commercial Properties , Land for Sale , About Us
E-mail address: WorldProperties@ALRealEstate.com
For additional information, please call:
In Birmingham (205) 822-8410
In Alabama (800) 741-8410
Outside of Alabama (888) 695-5767
About Us

---
World Properties Realty Company, its Broker(s), Agent(s), and/or Representative(s) are not responsible for any errors and/or omissions. It is Purchaser(s) sole responsibility to independently verify any and all information which may in any way affect their decision to purchase this or any property. All terms and/or conditions related to any properties mentioned herein are subject to change or be withdrawn without prior notice. All measurements and/or dates are approximate.
2820 Columbiana Road Birmingham, Alabama 35216

Copyright © 1997-2011 World Properties Realty Company. All rights reserved.